Republicans, Democrats, conservative or liberal, all hope for something different in their president. The one thing that no one is secretly wishing for (we hope) is a president whose mental health is deteriorating.
Mental health experts including a forensic psychiatrist from Yale's School of Medicine are starting to claim just that: That President Donald Trump is on the brink of a mental breakdown, and it's coming quickly. These professionals have expressed their concern and listed the four terrifying signs they believe indicate Trump's mental health should be questioned.
Thousands of mental health professionals have expressed concern
Bandy X. Lee, a forensic psychiatrist at the Yale School of Medicine, wrote an opinion letter to the editor published on The New York Times website detailing his concern with President Trump's mental health. Lee, the editor of The Dangerous Case of Donald Trump: 27 Psychiatrists and Mental Health Experts Assess a President, wrote to represent the mental health professionals who voiced their issues.
Lee noted that he and the rest of the experts chose to come forward to warn against the president's "psychological instability and the dangers it poses. We now number in the thousands."
They've formed a coalition
Lee told CNBC that "All agree that he's dangerous," and have formed a group called the National Coalition of Concerned Mental Health Experts. Their main platform, their website, calls for lawmakers, mental health professionals, and anyone interested in learning more to register for their forum or view it.
They express their view that "Trump's mental state presents a clear and present danger to our nation and individual well-being." Next, we'll explore their main arguments that the POTUS may be on the brink of a mental breakdown.
1. He has lost touch with reality
Lee and the other professionals made the claim that Trump has lost touch with reality. This comes on the heels of his denial of an Access Hollywood tape — that he's already publicly acknowledged existed.
In the final days of his campaign for president, Trump issued a unique video apology surrounding a tape that exposes one of the most controversial things he's ever said. "Anyone who knows me knows these words don't reflect who I am," he said. "I said it, I was wrong, and I apologize." However, shortly before his inauguration, Trump told a Republican senator that he wanted to investigate the recording, claiming "we don't think that was my voice." Since then, he's continued to suggest that the tape isn't him.
2. He exhibits unpredictable behavior
If you follow Trump on Twitter or follow the countless headlines that his tweets inspire, you're aware of how his opinion can change at the drop of a hat. Unless, of course, it involves his opinion of the "Fake News" media.
A recent example of this behavior occurred in November when President Trump again called Senator Elizabeth Warren "Pocahontas" during an event honoring Native American veterans. "You were here long before any of us were here," he said at the White House, "Although we have a representative in Congress who they say was here a long time ago. They call her Pocahontas." The crowd met this remark with complete silence. Trump spoke immediately in front of a portrait of President Andrew Jackson, whose administration has been criticized for its unfair treatment of Native Americans.
3. He's clearly volatile
The mental health professionals also expressed their concerns about Trump's "marked signs of volatility." These are best explained by the ongoing, escalating tensions between Trump and North Korean leader Kim Jong Un that many fear will turn into a nuclear war.
The University of Melbourne's daily news website, Pursuit, asked the question millions of people are wondering: Could personal insults trigger war? North Korea has fired 23 missiles throughout 16 tests since last February. However, according to the site, "It's Donald Trump's erratic response to rising threat levels that has many people worried."
4. Violence is his coping mechanism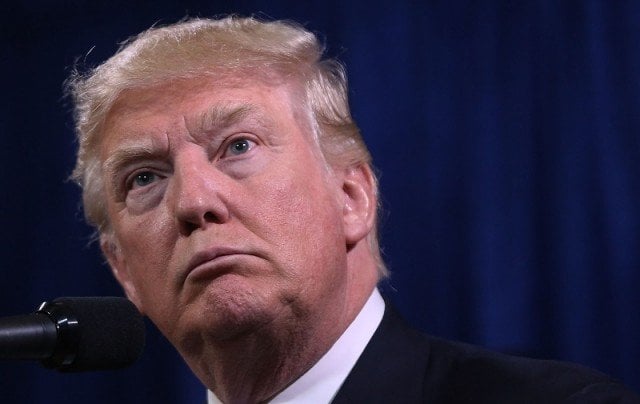 Lee warns that another sign of Trump's decreasing mental stability is his "attraction to violence as a means of coping." A recent instance of this is Trump's retweeting spree of anti-Islam videos that originated from a U.K. far-right group.
London's mayor, Sadiq Khan, responded saying that the president betrayed the "special relationship" between the U.K. and the U.S. and called on Prime Minister Theresa May to cancel any plans for an official visit from Trump. "President Trump … [used] Twitter to promote a vile, extremist group that exists solely to sow division and hatred in our country," Khan said, "As the mayor of this great diverse city, I have … called on Theresa May to cancel her ill-judged offer of a state visit to President Trump."
For ethical reasons, the experts wouldn't diagnose Trump
While ordinarily, Lee and the other contributors carry out a routing process for treating what they call "dangerous people," they are unable to do so because of Trump's powerful status as president. They found that "the power of the presidency and the type of arsenal he has access to should raise greater alarm, not less."
They went on to urge the public and the lawmakers of the U.S. to ask for an evaluation of the president. Psychology Today followed suit, stating, "Donald Trump has defiantly flipped the presidential script, with chaos and deliberate combativeness the new norm."