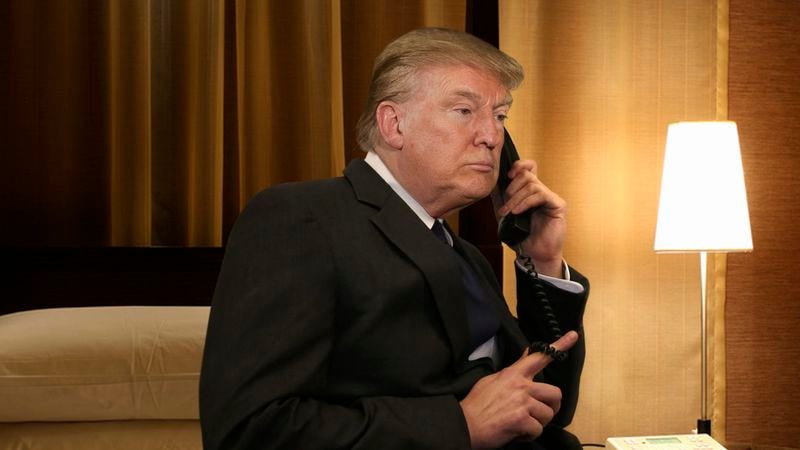 Everyone knows mornings are for coffee and contemplation, and if that's the case, then surely Sunday mornings should be preceded by a little sleeping in first.
That doesn't seem to be an option for Donald Trump, whose ego is apparently awake even when his hair is napping. But he can hardly be blamed for sleeping with one eye open, or at least with his casket lid partially propped up, after the wave of calls for him to get his head checked. After Trump's physical – which was itself surrounded by controversy due to a clearly fake doctor's note in which Americans were expected to believe the physician spelled his own name wrong – countless mental health professionals called on the president to get a mental examination.
If everyone thought I was crazy, I'd be up early trying to fight off rumors as well. Unfortunately, Trump doesn't get up early to do anything normal — he gets up to tweet.
Today's obsession? The Wall Street Journal, in the news lately for first going to press with the shocking details of Trump's affair with an adult film star 12 years ago. It seems that Trump wants revenge on the venerated Journal for publishing the news of his "hush money" payment to the actress, so he's hitting back on a previous report that came out of the paper.
Three days ago, it was widely reported that Trump had told the WSJ that he "probably" had a "very good relationship with Kim Jong-Un," the dictator of the isolated kingdom of North Korea. News outlets who wrote about the statement all used the Journal's transcript of the statement to base their stories on, and essentially everyone agrees that that's what they heard.
Now Trump claims it's not quite accurate, off by a letter. "I'd" instead of "I," they claim.
It seems like a pretty far stretch to try and question the credibility of the 128-year-old paper by disputing a single consonant sound, but Team Trump now claims that they have physical recordings of the interaction in which he made the statement.
Because that's apparently a thing we do now: Record everything the president says so we can claim it says something other than it does, based on his accent or tone.
His Twitter feed was peppered with outrage:
And then Trump retweeted his OWN TWEET to drive the point home:
But really, the salient point here – the takeaway – is that this is how far we've fallen. We have a president who is attempting to pull a James O'Keefe on the media itself, claiming that things are happening that clearly are not. Whether the speculation of Alzheimer's is true or not, it's widely assumed that if only the president would speak more clearly, perhaps the transcriptions of his constantly confusing pronouncements might not be heard incorrectly.