President Donald Trump taunted his former chief strategist Steve Bannon for having poor hygiene, according to new extracts from Michael Wolff's bombshell new book Fire and Fury: Inside the Trump White House.
According to extracts published Saturday in London's The Times newspaper, Trump maligned his dishevelled adviser at every given opportunity.
"If there was anything wrong with his White House, it was Steve Bannon. Maligning Bannon was Trump's idea of fun," writes Wolff.
"When it came to Bannon, Trump rose to something like high analysis: "Steve Bannon's problem is PR. He doesn't understand it. Everybody hates him. Because . . . look at him. His bad PR rubs off on other people," writes Wolff.
"The president had assembled a wide jury to weigh Bannon's fate, putting before it, in an insulting Borscht Belt style, a long list of Bannon's annoyances: "Guy looks homeless. Take a shower, Steve. You've worn those pants for six days. He says he's made money, I don't believe it." (The president, notably, never much took issue with Bannon's policy views.) The Trump administration was hardly two months old, yet every media outlet was predicting Bannon's coming defenestration."
Bannon was formerly one of the president's closest confidantes, but his relationship with the president has collapsed since the first extracts of the book were published last Wednesday. Bannon told Wolff that he believed that Trump's son, Donald Trump Jr., had committed treason when he met with a Russian lawyer touting negative information about Hillary Clinton in June, 2016, and described Trump's eldest daughter and adviser, Ivanka, as "dumb as a brick."
Bannon also told Wolff he believed that Trump could be removed under the 25th Amendment—under which presidents deemed mentally unfit can forced to step aside—after Trump suggested that "both sides" were to blame for the violence by white supremacists in Charlottesville, Virginia, in August that left an anti-racism activist dead.
According to reports, Trump bridled in early 2016 at reports claiming that Bannon was the mastermind behind the populist insurgency that led to Trump's election, and in particular at a February, 2017, Time magazine cover story that labelled Bannon the "second most powerful man in the world."
Wolff, meanwhile, predicted in an interview Friday that his book would spell the end of the Trump presidency.
"I think one of the interesting effects of the book so far is a very clear emperor-has-no-clothes effect," Wolff said in a BBC interview broadcast Saturday.
"The story that I have told seems to present this presidency in such a way that it says he can't do his job," Wolff said.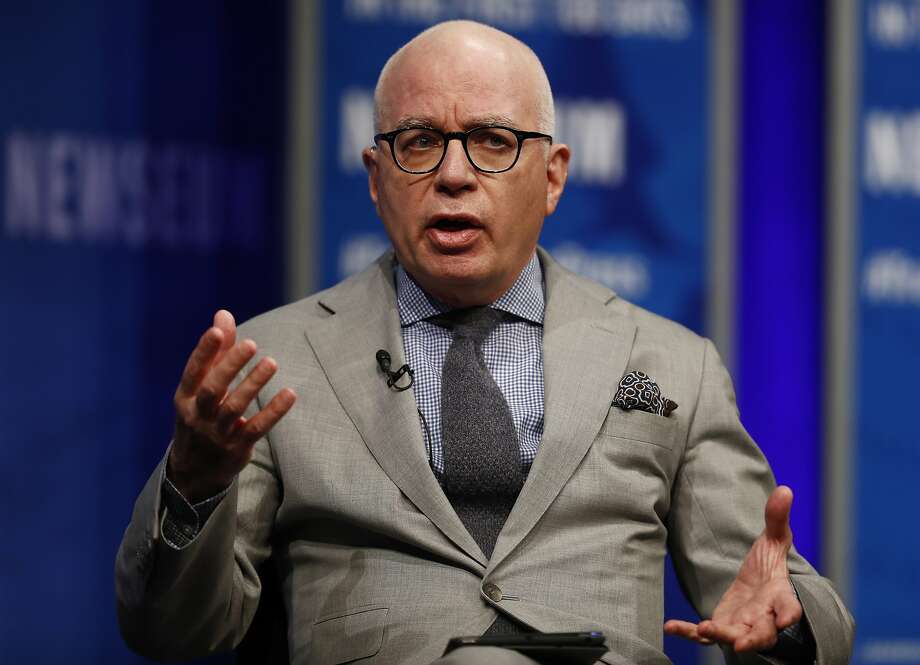 "Suddenly everywhere people are going 'oh my God, it's true, he has no clothes'. That's the background to the perception and the understanding that will finally end … this presidency."
In a tweet late Friday, Trump lashed out again at Bannon, who was removed from his position in August, and at Wolff, whom he described as a "total loser" who "made up stories in order to sell this really boring and untruthful book."
"He used Sloppy Steve Bannon, who cried when he got fired and begged for his job. Now Sloppy Steve has been dumped like a dog by almost everyone. Too bad!"
In his book, Wolff writes of Bannon's struggles to adapt to life in the White House—and the sense of mission that motivated him to stay.
"As an antisocial, maladjusted, post-middle-aged man, he had to make a supreme effort to get along with others, an effort that often did not go well. Most especially, he was miserable because of Donald Trump, whose cruelties, always great even when they were casual, were unbearable when he truly turned against you."
"I hated being on the campaign, I hated the transition, I hate being here in the White House," said Bannon, as quoted by Wolff.
"But Bannon was, he believed, here for a reason. And it was his firm belief — a belief he was unable to keep to himself, thus continually undermining his standing with the president — that his efforts had brought everybody else here.
"The idea of a split electorate — of blue and red states, of two opposing currents of values, of globalists and nationalists, of an establishment and populist revolt — was media shorthand for cultural angst and politically roiled times, and, to a large degree, for business as usual. But Bannon believed the split was literal," the book goes on.
"The United States had become a country of two hostile peoples. One would necessarily win and the other lose. Or one would dominate while the other would become marginal. This was modern civil war — Bannon's war."
You've wasted enough time': Jake Tapper cuts off Stephen Miller after he goes berserk over tell-all book
CNN host Jake Tapper abruptly ended an interview with White House staffer Stephen Miller after the Trump aide began shouting about a new tell-all book that casts the White House in a bad light.
During an interview that aired on Sunday, Tapper accused Miller of filibustering instead of answering questions that have been raised by Michael Wolff's new book, Fire and Fury: Inside Trump's White House.
Tapper noted that President Trump had recently called himself a "stable genius" in response to Wolff's book, which alleges that the president is not fit to serve.
"It happens to be a true statement," Miller shot back.
"I'm sure he's watching and he's happy you said that," a frustrated Tapper said.
"That was a snide remark," Miller complained.
"I have no idea why you are attacking me," Tapper remarked.
As the CNN host tried to ask questions about the book, Miller yelled that CNN attacks Trump "24/7".
"You have 24 hours of negative anti-Trump hysterical coverage on this network!" Miller shouted. "Viewers are entitled to have three minutes of the truth! Why don't you just give me three minutes to tell you about the Donald Trump that I know."
"Because it's my show and I don't want to do that," Tapper jabbed. "Stephen, settle down, calm down."
But Tapper's attempts to calm Miller failed, and he was eventually forced to end the interview.
"Okay, you're not answering the questions," Tapper said. "I get it. There's one viewer that you care about right now and you're being obsequious because you're trying to please him. I've wasted enough of my viewers time."
With that, Tapper cut off Miller and tossed to commercial.
Watch the video below.